November 30th 2013 |
MOSHAV


@ CONG. B'NAI JACOB(NY)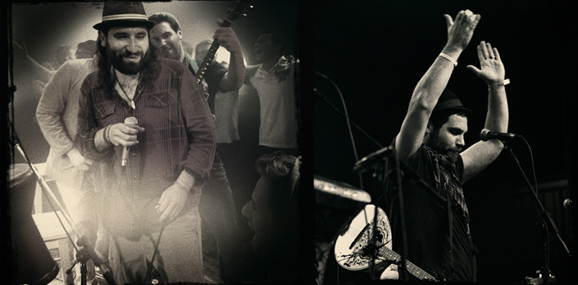 Presented in collaboration with the American Sephardi Federation and Yeshiva University Museum.
Event Info: MOSHAV
Location: 401 9th St Brooklyn, NY 11215
Time: 7:30pm
Tickets: $25


• Raised in Israel on Moshav Mevo Modiin, a musical village in the hills between Jerusalem and Tel Aviv, Yehuda (vocals, percussion) and Duvid (vocals, guitar) learned and played music together since childhood. Moshav will perform their unique brand of middle eastern and rock grooves like their "Abba Shimon" song which was featured on on Volume 1 of the festivals CD Compilation. 2012 saw Moshav on tour with Alex Clare as well as continuing to tour on there own through out the USA and the world. Their upcoming music video for their single "World on Fire" features Matisyahu and will be released on the first night of Chanukah. The single is featured on their latest and greatest album, "New Sun Rising".
Dec 1st 2013 |
SEPHARTANGO


@ THE CENTER FOR JEWISH HISTORY (NY)
Presented in collaboration with the American Sephardi Federation and Yeshiva University Museum.
Event Info: SEPHARTANGO
Location: 15 West 16th Street New York
Time: 5pm (Special event for ticketholders at 4pm: Tour of YU Museum's current exhibition, Threshold to the Sacred: The Ark Door of Cairo's Ben Ezra Synagogue. Come early – space is limited!)
Tickets: Ticket Info: $20 general; $18 students & seniors; $15 ASF/YUM members


•
• Sephardic songs set to tango and fused with classics create an unforgettable musical experience. Enjoy Polly Ferman's expressive and sensitive piano-playing and Gerard Edery's instrumental virtuosity and rich baritone. Curator and ethnomusicologist Samuel R. Thomas will be in conversation with the artists as part of the Sephardic Music Festival-Scholar Series.
Dec 2nd 2013 |
SEPHARDIC STORY SLAM


@ EASTVILLE COMEDY CLUB (NY)

Event info: Sephardic Story Slam
Location: EastVille Comedy Club
Time: 7:30pm Door / 8pm Show
Ticket: $10
• Join us as storytellers from far and wide, actors, poets, writers, comedians and other doe-eyed hopefuls try their hand and taking home the most coveted prize of all time: The legacy of being crowned: "Story Slam Champion" !!!
Come hear riveting stories of Arabian Nights, where the caravan camels roam. When the wind's from the east and the sun's from the west and the sand in the glass is right. Come on down, stop on by, hop a carpet and fly, to another Arabian night.
You will hear mesmerizing stories of middle eastern upbringing, exotic travels , family traditions from Morocco, Persia, Tunisia, Yemen and so much more!
10 Stories – 6 Minutes – 1 Champion. YOU CHOOSE THE WINNER!to enter please email smf@shemspeed.com
Dec 3rd 2013 |
HAZZAN VICTOR ESSES & TAVCHE GRAVCHE FT. HAZZAN GEORGE MORDECAI


@ THE SPANISH AND PORTUGUESE SYNAGOGUE (NY)

Event info: HAZZAN VICTOR ESSES & TAVCHE GRAVCHE FT. HAZZAN GEORGE MORDECAI
Location: 2 West 70th St. at Central Park West, NYC
Time: 7:15pm
Ticket: Purchase tickets online:
$15 for CSI, AICF and JICNY members / $20 for non-members / $8 for children
At the door: $20 members; $25 non-members


• TAVCHE GRAVCHE: Hailing from New York City's bustling streets, Tavche Gravche brings forth a fresh take on traditional Balkan tunes, as well as evocative originals by the group's members. Macedonian-born and Julliard educated, clarinetist Vasko Dukovski is a concert performer dedicated to breathing new life into the music of his roots. Steeped in both jazz and flamenco, Israeli-born guitarist Dan Nadel provides the fiery textural and harmonic palette for the band's music. They will be joined by Jazz bassist Daniel Ori and Master Macedonian percussionist Aleksander Petrov. HAZZAN VICTOR ESSES:Hazzan Victor Esses and his oud will perform pizmonim & bakashot of Syria and Egypt. Esses began his musical studies learning Hazzanut with various cantors in the community. He then studied music theory, oud and violin with world renown musician Simon Shaheen. He studied voice development and western music theory and notation at The New School and Brooklyn College. He also studied voice and maqamat under the famous cantor Rabbi Rephael Yair Elnadav for 3 years.

Dec 4th 2013 |
RASHANIM & CHURCH OF BETTY GLOBESTRA (CD RELEASE PARTY)


@ KNITTING FACTORY (NY)
Event info: RASHANIM & CHURCH OF BETTY GLOBESTRA (CD RELEASE PARTY)
Location: Knitting Factory 361 Metropolitan Avenue Brooklyn, NY
Time: 7pm
Ticket: $12 Advance | $15 Door

• CHURCH OF BETTY GLOBESTRA: Church of Betty Globestra: The Lazarus Rose: modern world arrangements of centuries-old Sephardic songs performed by a multinational chamber ensemble led by Church of Betty's Chris Rael, featuring Balkan vocal sorceress Vlada Tomova and musicians from Bulgaria, India, Spain, Albania and the US.
RASHANIM: Rashanim combines the power of rock with the spontaneity of improvisation, deep Middle Eastern grooves, and mystical Jewish melodies. Led by Jon Madof (Zion80, Matisyahu) on guitar, the band includes Shanir Ezra Blumenkranz (Yemen Blues) on bass and Mathias Künzli (Regina Spektor) on drums and percussion. They'll be joined by a very special guest on keyboards. Rashanim has released four CDs on John Zorn's Tzadik Records.
Dec 5th 2013 |
ISRAMERICA Annual Hanukkah Bash 2013!


@ LIBATION (NY)
Event info: ISRAMERICA Annual Hanukkah Bash 2013!
Location: LIBATION 137 Ludlow St, New York, NY 10002
Time: 8pm
Ticket: $25 Advance | $30 Door

• The NY Sephardic Music Festival closes with ISRAMERICA, back for the BIGGEST and BRIGHTEST Hanukkah event of the YEAR! Get ready to get rowdy with us at Libation for the epic closing of party for SMF 2013.  This marks the 2nd Annual Hanukkah BASH at Libation with over 600 exclusive guests comprised of young Jewish professionals and Israeli artists in all genres and mediums are expected!
Get ready for; *Hanukkah Premium Sweets & Chocolates  *Dessert Bar with Sufganiyot  *Pitopia Falfel *Sushi * Gifts and Giveaways all night!
ISRAEL VIP-Hanukkah Bash, An Exclusive Hanukkah Celebration
► CLICK HERE TO VIEW PAST FESTIVAL SCHEDULES