Taken from The Jerusalem Post
Oct.21.07
By BEN JACOBSON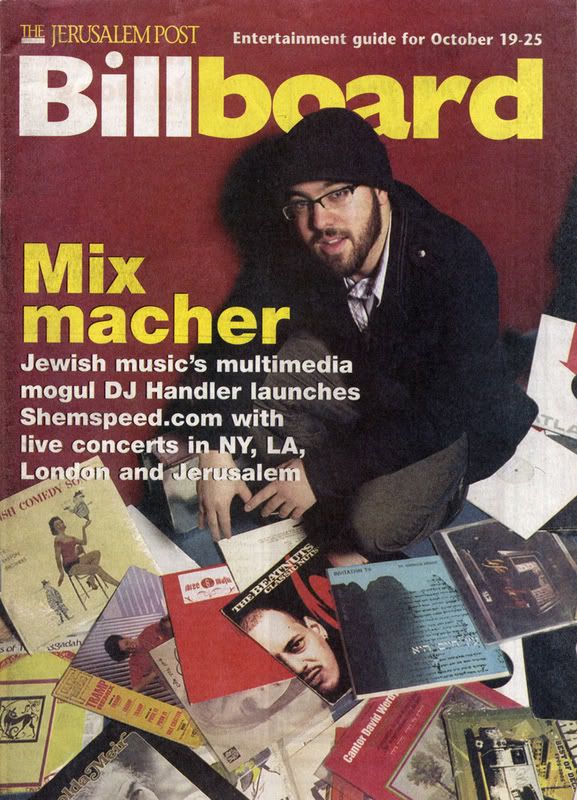 New York's Erez Safar, 28, is clearly one of the top visionaries of young Jewish cool's celebrated vanguard. You might have heard of Safar as the electro-ethnic-progressive turntablist DJ Handler, as the honcho of the alternative record label Modular Moods, as the manager of New York's annual Sephardic Music Festival, and as the promoter of the traveling Mid-East peace-themed Hip Hop Sulha.
"I see so much out there that lacks an aesthetic that matches a similar medium in the secular world," says Safar of his multi-disciplinary efforts. "So I want to present better quality."
Now he's reaching out to young Jews through a new medium, with the launch of a website called Shemspeed (www.shemspeed.com), a daily updated springboard that gives users around the world instant access to DJ Handler-approved Jewish music videos; a streaming web radio station; a user-driven global events calendar; an archive of CD reviews and other prose; and even a digital download store.
"The new site is the only place you could listen and get turned on to Orthodox and very unorthodox Jewish music," boasts Safar. "I want to reach the unaffiliated Jewish kids in Nebraska and Yemen…. Shemspeed is a way to put everyone on one page and create a dialogue across the world."
To celebrate the launch of the site, Safar has booked not one but four venues across the world, with over 40 live acts scheduled to perform. For now, local fans of edgy spirituality can check out the Israeli Shemspeed launch party this Thursday at Hamaabada in Jerusalem. Here, staples of the Israeli live Jewish rock scene like Aharit Hayamim, Yood and Hamakor are scheduled to be joined by secular Israeli funk-masters Coolooloosh, original Holy City rapper Sagol 59 and many others – including a surprise superstar ("I cannot disclose who," says Safar).
On the same day, another Shemspeed celebration is taking place on two floors at The Knitting Factory in New York, where luminaries like King Django, Blue Fringe, Chana Rothman, Jon Madof, Yuri Lane, Rav Shmuel, Y-Love, Pharaoh's Daughter and DJ Handler himself are set to entertain. On Saturday night, a similar party takes place in London, with yet another incarnation slated for Sunday in Los Angeles.
"It's been crazy, since I am already swamped with Y-Love's official This is Babylon release and putting together this year's Sephardic Music Festival for Hanukka," says Safar of the four-pronged launch. "Luckily I have good help in all the countries." But the barrage of launches, projects and releases never ends for Safar, who is already hard at work putting together more official Shemspeed-sponsored live music events, including a downtown New York open mic night for November 8, set to be hosted by Blue Fringe front man Dov Rosenblatt.
check Jpost.com out now
Related Posts